Employing young people in west
Apprenticeships information form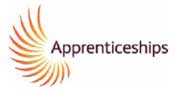 Please note: This page provides information for those wanting to be employed as an apprentice. If you are a business wanting to employ an apprentice please see the information for business page below
About apprenticeships
Apprenticeships are a mixture of work-based training and education for people aged 16 and over.
Full information on Apprenticeship programmes within the UK can be found here at:
Council apprenticeships
All Council apprenticeship vacancies will be advertised on our website. These opportunities are open to all age ranges as long as you meet the requirements within the job description and personal specification.
Vacancies