Employing young people in west Cheshire
Council Apprenticeships
If you are looking to start a new career, take your first step into the world of work perhaps you'd like to develop your professional skills and knowledge, it could be worth considering an apprenticeship.
As an apprentice you will learn from our highly experienced colleagues in a fast paced, inclusive and diverse working environment. If you are interested in a working for a value driven, high performing Council, and you have passion for playing your part we want to hear from you.
We provide a range of exciting opportunities, giving you the chance to earn money while getting on-the-job training, as well as gaining a nationally recognised qualification that supports you to achieve your career aspirations. Recent opportunities have included; Legal, Human Resources, Business Administration, Finance, Auditing, Pensions and Social Care.
Please note: Information for businesses wanting to employ an apprentice can be found on our business apprenticeship page.
All of our apprentices receive:
A competitive apprenticeship wage which includes national minimum wage and local living wage
26 days holiday
Flexible working arrangements ensure you can achieve a healthy work life balance
Family friendly leave
Valuable hands-on experience working alongside experienced colleagues
20% off the job training
Guidance and support from a Line Manager, Mentor, Inclusive Employment Manager, and a dedicated Apprentice Programme Tutor.
If you're looking to start a career or develop new skills and want to earn while you learn, then come and join us.
No candidate will meet every single desired requirement. If your experience looks a little different from what we've identified and you think you can bring value to the role, we'd love to learn more about you.
To apply for any of our current apprenticeship vacancies, you must:
Have the right to live and work in England
Not be enrolled on another apprenticeship or further/higher education programme at the time of your application
Not already hold a qualification at the same or higher level in the same or closely related field to the apprenticeship you are applying for
Please note: our apprenticeships are subject to your eligibility to undertake this apprenticeship programme. This will be checked by our training provider partner.
If we don't have any live vacancies, you can sign up for alerts on our jobs register so you'll be first to find out about opportunities.
You will
be self-sufficient and responsible
commit to completing the entire apprenticeship programme
attend regular teaching and learning/review activities
complete off the job training and home studying required
carry out the requirements of the job description
put learning into practice at work
We will
provide a contract of employment and apprentice agreement for the duration of the apprenticeship and pay the agreed wage
allow the apprentice to attend external off-the-job training and assessments as part of their paid working hours
ensure the apprentice role helps them gain the knowledge, skills and behaviours they need to achieve
encourage a culture of support and communication to help the apprentice, line manager and apprenticeship training provider achieve consistent goals
Workplace mentor will
work with the Line Manger to ensure apprenticeship success
share their knowledge and experiences
provide advice, guidance, and feedback
offer encouragement and support
celebrate the apprentice's success
identify development opportunities
build an apprentice's confidence, independence and self-belief
support personal development and wellbeing alongside the line manager
Line manager will
carry out induction with the apprentice, talk through their objectives and goals and agree a training plan
set out what is expected of them, for example, dress code, time management and general work behaviours
provide an understanding how apprentice role fits with the team and wider organisation
carry out regular one-to-one meetings with the apprentice as part of usual performance management
support the apprentice to follow the apprenticeship standard and complete their individual training plan
ensure clear and frequent communication with the apprentice and training provider
help the apprentice achieve the apprenticeship to the required standard and on time
attend progress review meetings
support personal development and wellbeing alongside the work place mentor
Training provider will
enrol the apprentice onto an apprenticeship that is appropriate for their job role and experience.
establish goals and timely targets with the apprentice and line manager
identify the apprentice's training and development needs through individual training plans
remind apprentices of their deadlines and assessment dates to ensure evidence is uploaded on time.
conduct regular progress reviews involving the line manager
provide support and guidance to help the apprentice prepare for End Point Assessment (EPA)
during EPA ensure the apprentice understands the assessment methods, the evidence expectations and that they feel confident and ready for EPA.
ensure the employer is aware of the EPA requirements and is able to support the apprentice
Apprenticeship vacancies
Feedback from our apprentices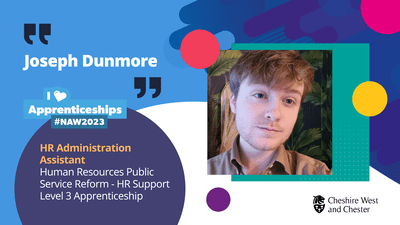 "I enjoy my role as an apprentice because it has taught me lifelong skills and given me the invaluable opportunity to progress into a permanent role within a great team that I am proud to be a part of." - Joseph, HR Support Level 3 Apprenticeship, Human Resources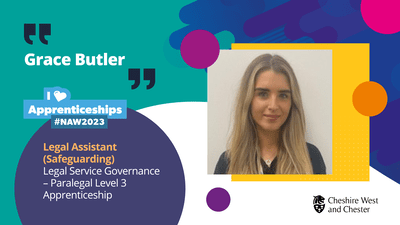 "I enjoyed my apprenticeship because it made me more confident and I learned key skills for working in the legal sector, which I have been able to practice within my day-to-day work life." - Grace, Paralegal Level 3 Apprenticeship, Legal Services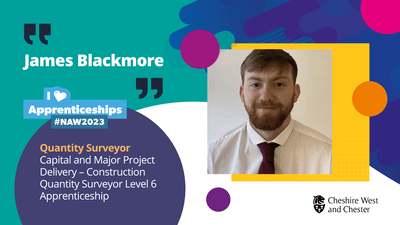 "I enjoy my apprenticeship because I gain a level of experience I can apply directly to my degree and earn alongside it. I love working at the Council because the sense of community aids my personal and professional development." - James, Quantity Surveyor Level 6 Apprenticeship, Capital and Major Projects