Transforming the Market Hall
Overview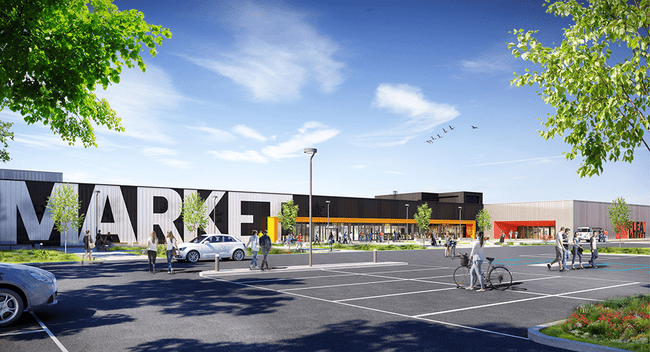 Approximately £8.5 million will be spent to help enhance and transform Ellesmere Port market for the future. Plans include radically improving the appearance and thermal efficiency of the market hall. The improvements will support local market traders and help future-proof Ellesmere Port Market for many more years to come.
The Ellesmere Port Market is preparing for a transformation that will include:
The Market Hall - Building improvements
There will be some reconfiguration of the market hall to improve movement through the space. The improvements to the interior of the market hall will enhance the environment for existing traders and are intended to be a catalyst to attract new businesses and footfall.
A new children's play area has already been opened and Wi-Fi installed. The market will also see the installation of improved public toilets including a new Changing Places toilet.
There will be environmental efficiency improvements to the building including photovoltaic (PV) panel installation and increased natural lighting.
The entrance to the market will be improved creating a multi-functional spill-out space for businesses and events, and secure cycle parking, to reinforce cycling links between the town centre and surrounding areas.
Flea Market area
A new flexible events space will be created in the existing flea market area. This will increase the number and type of events and welcome visitors from across Ellesmere Port and the surrounding area.
Key Aspects Include:
New windows will let more light into the building
Introduction of photovoltaic solar energy on the roof to generate green energy
Increased insulation to improve the energy efficiency of the building
New opportunities for local people to trade
New flexible events space
Improved internal appearance of the market hall
Allocated areas for youth and community space
Improved toilets including a Changing Places toilet
Timetable
Discussing plans with market traders - Spring 2023
Planning application - Autumn 2023
Construction work enhancing the market hall building - Spring2024
Market hall works completed - Summer 2025
There will be some periods of disruption and some of your favourite market stalls may have to move temporarily as the works are carried out.
No, all of the existing stalls will be staying, although some may have to move.