Potholes and road faults
Our team inspect all roads and footpaths for damage on a regular basis in line with the highways safety inspection code of practice (PDF, 1.15MB).
What we will investigate
Maintenance of our roads are selected following the guidance provided by Department for Transport (DfT).
Where a pothole is at least:
4cm deep on a road
2.5cm on a pavement
Please use the report it button below and we will investigate.
For potholes that fall outside of the criteria, we have routine maintenance and resurfacing plans in place.
Examples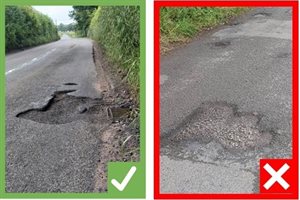 Report it
What happens next?
Once we've been notified of the pothole we will:
inspect the road within 10 working days
decide on how quickly we need to repair. We will look at size,depth, type, position and volume of traffic
repair them within 24 hours if it is urgent (category 1)
let you know if we aren't going to carry out the work and why
How we prioritise
Potholes which pose an immediate and critical risk will be made safe within two hours.
Potholes which pose an immediate risk and require urgent attention will be made safe or repaired within 24 hours.
Potholes which are deemed not to cause an immediate risk, can be repaired within longer timescales. The timing of the repairs will be determined on risk and have been divided into three priorities.
high priority - make safe or repair within five working days
medium priority – repair within 28 working days
low priority – pothole recorded and will be re-assessed on next routine safety inspection.
Potholes that have been identified as requiring repair but do not pose a safety related concern will be included in our programmed work. This will be completed along with other related work to ensure efficiency and provide value for money.
I've already reported an issue
You can check the progress of the report using our status checker. You can also use this to provide an update.