Bus lane enforcement
Automatic Number Plate Recognition (ANPR) bus lane enforcement is in operation at five locations in Chester. Designed to discourage drivers who ignore bus lane restrictions, enforcement will help improve journey times for public transport users.
All bus lanes are clearly signed both on the road (white lettering) and on posts at the entrances to the lanes. Most bus lanes can also be used by taxis, motorcycles and pedal cycles. All lanes will be clearly signed to indicate which vehicles are permitted.
Unauthorised entry into a bus lane will result in the driver of the offending vehicle receiving a £70 penalty charge notice by post. This is payable by the vehicle owner, however the charge will be reduced to £35 if it is paid within 21 days.
Pay a parking or bus lane fine
More information on how to challenge the PCN can be found online. You can also find out more about the enforcement of bus lanes on our guidance web page.
Locations
Cameras are in place on the following bus lanes and use ANPR to identify unauthorised vehicles that enter bus lanes.
Wrexham Road
The bus lane runs from the west side of Wrexham Road. It begins 30 metres south of the stop line at Overleigh roundabout for a distance of 1170 metres in a southerly direction.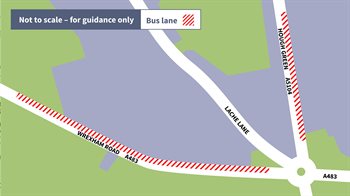 Hough Green
The bus lane runs on the north side of Hough Green. It extends from 20 metres east of the eastern boundary of Glan Aber Drive to its junction with Glan Aber Park. It also extends 124 metres east of the eastern boundary of Redland Close for 470 metres in an easterly direction.
Upper Northgate Street
The Bus Lane runs along Upper Northgate Street between the junctions with George Street and Delamere Street
The Chester Bus Interchange access road from St Oswald's Way
The Bus Lane is on the road forming the access to Chester Bus Interchange between the westbound carriageway of St Oswald's Way and Oulton Place. It includes the short section comprising the bus gate.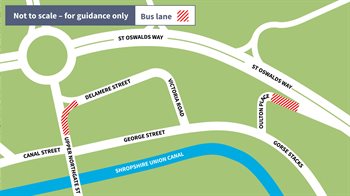 Sealand Road
The bus lane is on the north side of Sealand Road. It extends 37 metres east of Clifton Drive to 155 metres west of Greyhound Park Road, 28 metres east of Deva Link to 62 metres west of Stadium Way and 27 metres east of Stadium Way to 40 metres west of Finchetts Gutter bridge.

Times of operation
If there are no times stated on the signs, the bus lane is in operation 24 hours a day. Road signs and markings will clearly indicate the start and end of bus lanes and highlight the hours of operation.
Parking in bus lanes
Parking is not allowed in bus lanes even with a blue badge. You will however be permitted to cross the bus lane to park in a parking facility (driveway, car park etc.) adjacent to the bus lane.