Gypsies and Travellers
Travelling showpeople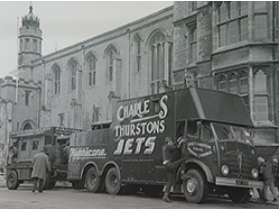 Travelling showpeople are defined as Members of a group organised for the purposes of holding fairs, circuses or shows (whether or not travelling together as such).
This includes people who have ceased to travel temporarily, on the grounds of their families or dependent's more localised pattern of trading, educational or health needs or old age; however this excludes Gypsies and Travellers.
Although their work is of a mobile nature, showpeople nevertheless require secure, permanent bases for the storage and repair of their equipment and places to live when not on the road. In recent years many showpeople have had to leave traditional sites, which have been displaced by other forms of development.
Many showpeople are members of the Showmen's Guild of Great Britain and are required by the Guild to follow a strict code of practice regulating the use of their sites. Membership of the Guild provides showpeople with exemption from the site licensing requirements of the Caravan Sites and Control of Development Act 1960 when they are travelling for the purpose of their business, or where they only occupy quarters for a period between the beginning of October and the following March.
What are travelling showpeople yards? (pitches)
Showpeople's sites do not neatly fit into any definition of any one land use category.
The sites combine a residential use (siting of their mobile caravans) with a commercial use, attained by storing and maintaining fairground equipment.
Showpeople require a pitch to contain an area for the siting of mobile homes, caravans and parking, a recreational area, storage and maintenance area and associated drainage and refuse facilities.
| Authority | 2013-2018 | 2018-2023 | 2023-2028 | Total |
| --- | --- | --- | --- | --- |
| Cheshire East | 11 | 1 | 1 | 13 |
| Cheshire West | 11 | 1 | 1 | 13 |
| Halton | 0 | 0 | 0 | 0 |
| Warrington | 16 | 1 | 1 | 18 |
| Total | 38 | 3 | 3 | 44 |