Great Boughton Library
Our order and collect service is still available from selected libraries and we have a wide range of eBooks, audio downloads, eMagazines, eNewspapers and eResources free of charge.
Our libraries are now fine-free for children aged 0 to 12 years so they will no longer be charged for any overdue items. Any pre-existing late charges have been removed from their accounts.
Opening hours
Monday and Thursday: 9.30am - 1pm, 2pm - 7pm
Tuesday, Wednesday and Friday: 9.30am - 1pm, 2pm - 5pm
Saturday: 9.30am - 1pm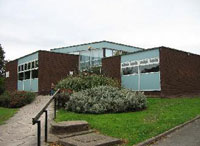 Green Lane, Vicars Cross, Chester, CH3 5LB
Resources
Search the library catalogue
Free WiFi – simply login with your library card number and PIN/password
Regular activities
Monday
Storytime with nursery songs: 2.30pm - 3pm, weekly in term time, suitable for pre-schoolers
Tuesday
Reading group: 2.15pm - 3.15pm, first Tuesday of the month
Wednesday
Scrabble: 10am - 12pm, weekly
Rhymetime: 10.30am - 11am, weekly during term time. Suitable for toddlers and pre-schoolers
Lego Club: 3.15pm - 4.30pm, weekly in term time.
Thursday
Adult board games: 2pm - 4pm, weekly
Friday
Not a reading group: 10.30am - 11.30am, second Friday of the month
Online groups and activities
We are now offering regular online activities, which are available via Zoom (details can be requested using our enquiry form). These activities include:
Not a reading group
Zoom book club
Where is the library? How do I get there?
Directions
You will find Great Boughton Library in an eastern suburb of Chester known as Vicar's Cross. The library is located on Green Lane, between the shops and Oldfield Primary School.
Public Transport
Chester City bus number 7 stops immediately outside the library on Green Lane.
Parking
There is a car park at the rear of the library.