Lache Library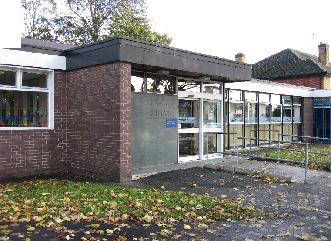 Our order and collect service is still available from selected libraries and we have a wide range of eBooks, audio downloads, eMagazines, eNewspapers and eResources free of charge.
Our libraries are now fine-free for children aged 0 to 12 years so they will no longer be charged for any overdue items. Any pre-existing late charges have been removed from their accounts.
Lache Park Avenue, Lache, Chester, CH4 8HR
Opening hours
Monday and Thursday: 9.30am - 1pm, 2pm - 7pm
Tuesday and Friday: 9.30am - 1pm, 2pm - 5pm
Wednesday: Closed
Saturday: 9.30am - 1pm
Resources
Free Wi-Fi – login with your library card number and PIN/password
Home Library Service
The Home Library Service provides library books and talking books directly to the homes of readers who are unable to collect their own items from a library. If you would like to use the Home Library Service, please ask a member of staff.
We're always looking for new volunteers and there are a number of ways to help, from selecting items for customers, to driving and dropping off items at customers' homes. To apply go to Volunteering in Cheshire West Libraries.
Regular activities
Monday
Scrabble Club: 10am - 12.30pm, weekly
Reading group: 2.30pm - 3.30pm, 1st Monday of the month. Contact the library to find out the book being discussed.
Tuesday
Baby explorers: 10.30am - 12pm, weekly. The sessions are aimed at new parents with babies aged 0-6 months. A chance for babies to explore their surroundings using sensory toys and for new parents to meet and chat (booking essential and term time only).
Craft and Chat: 2.15pm - 3.15pm, weekly. Adult craft group, bring along your own project for friendly chat and crafting. All abilities welcome.
Thursday
Rhymetime for under fives: 2.15pm – 2.45pm, weekly (term time only).
Friday
Read, Listen, Share (ReLiSh): 10am – 11am, weekly. Social and friendly group, where no prior reading is required, at each session a poem or short story is read aloud and then discussed afterwards.
Coffee afternoon with colouring and chat: 2.30 - 3.30pm, weekly. Have a chat and a brew whilst doing a some mindfulness colouring. All welcome.
Springboard job club: 2.30pm - 4pm, weekly. Work with an employment advisor to make the most of your skills and get access to all job opportunities, get one to one help with CVs, interview techniques, digital skills and applying for jobs. This is open to all whether you've just left college/university, been made redundant or are looking for a career change.
Saturday
Lego club: 10am - 11am, weekly. For ages 6+. Parental supervision essential.
Where is the library? How do I get there?
Directions
Lache Library is situated south west of Chester city centre near to the border with North Wales. The library is located on the corner of Lache Park Avenue, adjoining Cliveden Road.
Public transport
The library is linked to the city centre by regular bus services 7, 8 and 16.
Parking
There is adequate space for parking on Lache Park Avenue.
Disabled parking
On street parking is available close to the library.