Neston Library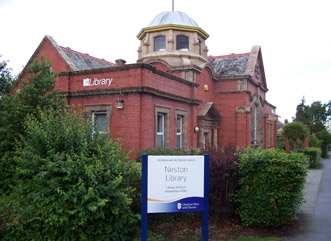 Our order and collect service is still available from selected libraries and we have a wide range of eBooks, audio downloads, eMagazines, eNewspapers and eResources free of charge.
Our libraries are now fine-free for children aged 0 to 12 years so they will no longer be charged for any overdue items. Any pre-existing late charges have been removed from their accounts.
Parkgate Road, Neston, CH64 6QE
Opening hours
Monday, Wednesday and Thursday: 9am - 5pm
Tuesday and Friday: 9am - 7pm
Saturday: 9.30am - 1pm
Resident Assistance Point
This building is equipped with technology to enable customers to access Council services. Staff are also on hand to provide guidance and advice.
Free WiFi – simply login with your library card number and PIN/password
Home Library Service
The Home Library Service provides library books and talking books directly to the homes of readers who are unable to collect their own items from a library. If you would like to use the Home Library Service, please ask a member of staff.
We're always looking for new volunteers and there are a number of ways to help, from selecting items for customers, to driving and dropping off items at customers' homes. To apply go to Volunteering in Cheshire West Libraries
Regular activities
Monday
Wellbeing course for 19-25 year olds: 9.30am - 11am. 7 week course, run by Amber Button CIC, aimed at younger Cheshire West residents. Free but booking is essential - Book wellbeing course online (starts 24 April).
Adult colouring and craft club: 10am - 12pm, weekly. Friendly group for anyone to join, enjoy a bit of mindfulness through colouring, knitting or cross stitch.
U3A history group: 2pm - 4pm, last Monday of the month
Tuesday
Family history course: 9.30am - 11am. 7 week course, for anyone interested in genealogy. Free but booking is essential - Book family history course online (starts 25 April).
Stories and rhymes for under fives: 11.15am - 11.45am, weekly
Wednesday
English Conversation Group: 10.30am - 11.30am, weekly. Relaxed, social group which aims to build confidence in speaking English as well as improving listening skills, through everyday conversations. Ideal for speakers of other languages. Restarts September 2023
Work club: 1pm - 3pm, run by Amber Button CIC. Support provided includes job searches, CV writing, application forms, interview skills and commitments. Drop in. Restarts September 2023
Thursday
Digital device drop in: 2pm - 3pm, weekly. Basic help with your digital devices, from tablets to smartphones
Tea and Tattle group: 11am - 1pm, second Thursday of the month. Older LGBTQ+ social group set up in partnership with Body Positive and Silver Rainbows
Friday
Stories and rhymes for under fives: 11.15am - 11.45am, weekly
Saturday
Chess club:10am—12pm, weekly. Open to all, with a junior session running from 10am—11am and then adults from 11am—12pm.
Lego club: 10am - 12.30pm, weekly. Drop in, creative sessions. All welcome.
Forthcoming joint Police & Councillor Surgeries
Friday 7 July: 5.30pm - 6.30pm
Where is the library? How do I get there?
Directions
Neston Library is on the left hand side after the shops on Parkgate Road, on the way out of Neston.
Public transport
Neston railway station is five minutes walk from the library; bus stops are five minutes walk from the library.
Parking
There is a small car park at the rear of the library and some on road parking at the front.