Winsford Library
Our order and collect service is still available from selected libraries and we have a wide range of eBooks, audio downloads, eMagazines, eNewspapers and eResources free of charge.
Our libraries are now fine-free for children aged 0 to 12 years so they will no longer be charged for any overdue items. Any pre-existing late charges have been removed from their accounts.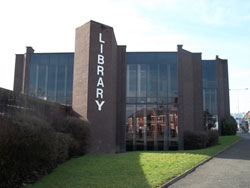 High Street, Winsford, CW7 2AS
Telephone: 01606 275065
Fax: 01606 861563
Opening hours
Monday and Thursday: 9.30am - 7pm
Tuesday, Wednesday and Friday: 9.30am - 5pm
Saturday: 9.30am - 1pm
Resources
Search the library catalogue
Free WiFi – simply login with your library card number and PIN/password
Regular activities
Monday
Rhymetime for under fives: 10.30am – 11am, weekly
Tai Chi: 2.30pm - 3pm, weekly. Drop in
Colouring club: 3.30pm - 5pm, weekly
Tuesday
Baby bounce: 10.30am – 11am and 11.30am – 12pm. For 12 months and under
Wednesday
Children's games club: 3pm - 4.30pm, weekly.
Thursday
Story time for under fives: 10.30am – 11am, weekly
Digital device sessions: 2pm - 4pm, weekly. Learn how to get the most out of your technology, from tablets to smartphones. Please contact the library to book a 30minute slot.
Craft and Chat: 5.30pm – 6.45pm, weekly. There's a guided craft on the last Thursday of the month (small charge for this).
Friday
Lego club: 3.30pm – 4.30pm, weekly
Online groups and activities
We are now offering regular online activities, which are available via Zoom (details can be requested using our enquiry form). These activities include:
Not a reading group
Zoom book club
Where is the library? How do I get there?
Directions
The library is situated on the High Street dual-carriageway that runs through Winsford. It is opposite High Street Primary School and between the Dingle Recreation Centre and the Health Centre, to the left of the entrance to Winsford Cross Shopping Centre.
Public transport
There is a bus stop directly outside the library for the 28-31 Northwich-Winsford-Crewe buses. Phone Cheshire Traveline on 0845 140 2666, 8am - 8pm, for further information. The railway station is over a mile away, with a bus service to the town centre. Please phone the National Rail Enquiry Line on 08457 484950 for train details.
Parking
The library has its own car park behind the building. Alternatively, short-stay parking is available from town car parks.
Disabled parking
There are two disabled parking spaces in the library car park.