Skills and employment
Support with English and maths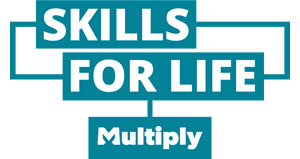 Multiply
Multiply Courses, helping people across west Cheshire improve their maths skills.
Many people have gaps in their maths skills which can hold them back either in their career or in their everyday life, whether that is managing finances or supporting children with their homework.
Support is available for those aged over 19 who do not have a maths GCSE at Grade C/4. This additional money from the Government Levelling Up Fund will support adults to access flexible and engaging sessions, in a variety of venues which will lead to an increase in confidence in the use of numbers and help to progress on to courses and ultimately gain recognised qualifications.
The Multiply programme provides a unique opportunity to deliver maths support to those who need it, in ways that are more flexible and tailored to the individual's requirements.