Permitted processes
Overview
We regulate emissions from certain industries. The law that supports this work is aimed at preventing or reducing emissions wherever possible and to ensure that those emissions are controlled.
Operators of certain industrial and commercial installations must get a permit to operate. Permits have conditions in them which control emissions from the process and prevent pollution exceeding acceptable levels.
The public register of environmental permits we have issued can be viewed free of charge, by prior appointment, at our Chester, Ellesmere Port and Winsford offices. Hard copies of information on the public register can be made available for a charge (this is solely to cover our costs).
Where to find help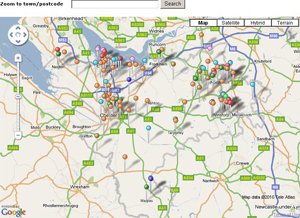 Our interactive map shows all of the processes that are regulated by the us and where they are located. Selecting the colour coded pins will display details for each process. You can also enter your postcode and it will highlight the processes nearest to you.
The links below provide a list of each of the processes by process type:
Information about applying for a permit can be found on our Environmental permits page.
Our Industrial regulations pages provide background information about the legislation relating to permitted processes.
Details of larger industrial processes permitted by the Environment Agency can be found on the Environment Agency website.